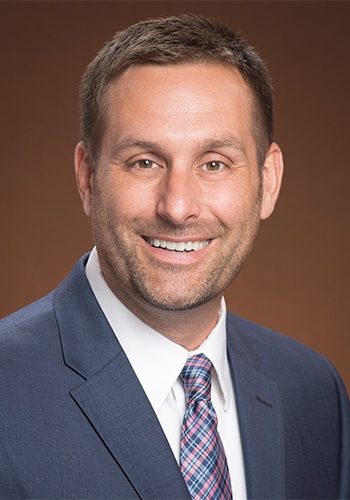 DR. CLAYTON SKRZYPCZAK HAS HELPED HUNDREDS OF PATIENTS IMPROVE THEIR LIFESTYLE BY IMPROVING THEIR VISION AND EDUCATING THEM ABOUT THEIR HEALTH. HIS EXPERTISE IN THE REFRACTIVE NATURE OF THE EYE AND THE IMPACTS OF NUTRITION AND HEALTH ON THE VISUAL SYSTEM AND THE BODY HAS MADE A DIFFERENCE IN MANY LIVES. HE HAS PRACTICED OPTOMETRY IN NORTHERN MICHIGAN SINCE GRADUATING FROM THE MICHIGAN COLLEGE OF OPTOMETRY AT FERRIS STATE UNIVERSITY IN 2001.
AS A NATIVE OF NORTHERN MICHIGAN, DR. SKRZYPCZAK FEELS A SPECIAL CONNECTION WITH THE SURROUNDING COMMUNITIES AND PEOPLE IN THE AREA. HE KNOWS WHAT IT'S LIKE TO HIKE IN THE WOODS AND TRAILS, FLOAT THE LAKES AND STREAMS AND CLIMB THE DUNES. WITH ALL THE BEAUTY NORTHERN MICHIGAN HAS TO OFFER, IT'S DR. SKRZYPCZAK'S MISSION TO IMPROVE THE VISION AND HEALTH OF HIS PATIENTS SO THEY, TOO, CAN ENJOY THE BEAUTY OF OUR AREA.
DR. KATHLEEN LEAHY GREW UP IN TRAVERSE CITY, MI AND COMPLETED HER UNDERGRADUATE DEGREE IN BIOPSYCHOLOGY, COGNITION, AND NEUROSCIENCE AT THE UNIVERSITY OF MICHIGAN. SHE GRADUATED WITH HIGHEST DISTINCTION FROM MICHIGAN COLLEGE OF OPTOMETRY AT FERRIS STATE UNIVERSITY.
THROUGHOUT HER TIME AT MICHIGAN COLLEGE OF OPTOMETRY, DR. LEAHY WAS INVOLVED IN MANY STUDENT ORGANIZATIONS. SHE WAS PRESIDENT OF THE MICHIGAN OPTOMETRIC STUDENT ASSOCIATION, TREASURER OF OPTOMETRY STUDENT GOVERNMENT, AND A MEMBER OF THE MICHIGAN OPTOMETRIC STUDENT PRIVATE PRACTICE ASSOCIATION.
DR. LEAHY IS A MEMBER OF THE MICHIGAN OPTOMETRIC ASSOCIATION AND THE AMERICAN OPTOMETRIC ASSOCIATION. HER PROFESSIONAL INTERESTS INCLUDE CONTACT LENSES, OCULAR DISEASE, AND PRIMARY CARE.
IN HER FREE TIME, DR. LEAHY LOVES GETTING OUTSIDE AND ENJOYING BEAUTIFUL NORTHERN MICHIGAN, DOING YOGA, AND SPENDING TIME WITH HER HUSBAND AND DACHSHUND, YODA.